One at a Time: Slow Fashion in a Fast World
Meet the Artists!
As a preview to our upcoming Design Week event all about handmade, sustainable fashion and accessories, you can read here a little about each of our participating artists! The showcase kicks off on March 31st with special guest Amy Nguyen and treats from Row34 (RSVP here!) and runs through April 10th in our shop.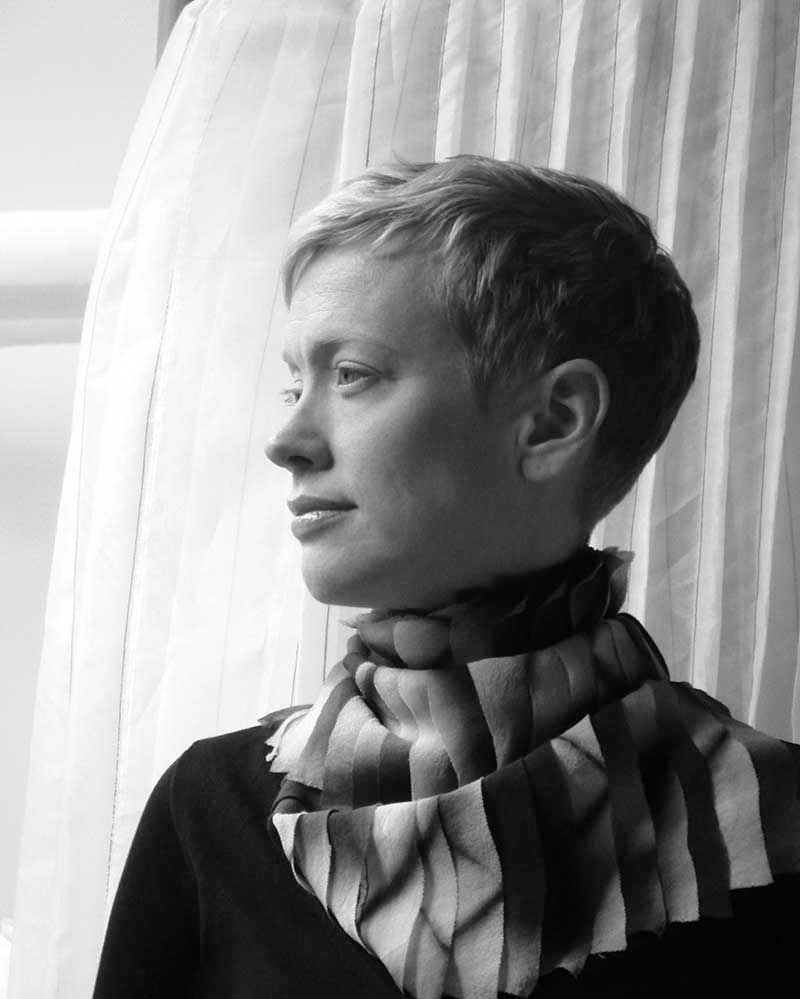 From Amy's website: "The importance of creating by hand was instilled early on and is just as important to me today after over two decades of professionally painting, dyeing, sewing, and sculpting . . .
I am particularly interested in using the ancient dyeing techniques of shibori, rozome, and katazome to express pattern and color on fabric before manipulating that fabric to create a new textile. I've had the opportunity to study under notable master textile artists as well as to meet some of Japan's most treasured textile artisans . . .
While my work in textiles has been informed by compelling artists such as Issey Miyake, Yoshiki Hishinuma, Naum Gabo, Constantin Brancusi, and Andy Goldsworthy, I am also influenced by my husband Ky and my love of music, nature, architecture, pottery, slow food, and travel."
amynguyentextiles.com
Photo: Bob Packert
















Souther creates hand beaded, one of a kind jewelry. Her creations require hours of painstaking labor and truly are sculptural works of art.
From her website: "Souther, Registered Architect, LEED AP, jewelry artist and teacher . . . Her work as an architect informs the composition of her jewelry. Even as a child her unique sense of structure found life in the dams she built on the creek, the math puzzles she traded in lieu of assignments with her seventh grade math teacher, and the cigar box rooms filled with miniature furniture she made for her sisters and cousins."
thesouthergroup.com
Photo: Kathy Chapman


























From Philip's website: "Philip's mother and grandmother, both excellent quilters and seamstresses, taught him how to sew when he was a teenager, perhaps to help a frustrated boy solve his problems of not finding clothes that fit properly. Philip has been specifically influenced by the excellent craftsmanship from his Mennonite heritage which can be seen in all of Philip Sawyer Designs' garments."
philipsawyer.com
Photo: Kathy Chapman





















Jen creates knitwear-based designs for men and women using hand-powered machines in her Boston, MA studio. Inspired by a combination of sport and tradition, Jen's designs combine the sleek, tailored fit of athletic wear with heirloom details like embroidery, cabling, and other deeply textural effects. She strives to work in sustainable fabrics such as wool sourced in the USA, and easy to grow linen and hemp over traditionally farmed cotton.
Originally beginning her design career as a mechanical engineer, Jenifer studied first at McGill University and worked in the corporate field before switching gears and pursuing studies at RISD and MassArt. She continues to expand her technical knowledge every few years through additional courses in knitting technology and illustration.
When she's not knitting, she can be found touring Boston on her speedy Trek road bike, or cooking elaborate, spicy dishes in her kitchen.
jeniferstark.com
Photo: Joe Harary






Dawna Davis is a wire artist living and working in the historic district of Fort Point in Boston, MA. She creates wearable jewelry art, wall art, sculpture and home décor pieces that reflect her love of light, color and whimsy.
From Dawna's website: "I incorporate various types of wire with semiprecious stones, pearls, and crystal to make colorful, fanciful jewelry, wall art and sculpture. Through the use of wire coils, spirals and other shapes, my pieces call forth a spirit of whimsy and playfulness – whether it's free-form, wrap or knit stitches, they create a balance of simple and detailed, smooth and textured, delicate and strong . . . My finished pieces are fashioned to capture the feelings of drama and motion."
Alys' artist statement: "Nature teaches us about the brevity of our human lives, the cycles of life and death, and that all things are subject to impermanence. I embrace the beauty found in rust, decay, decomposition, and disintegration, which are all part of life.
There is equal weight in the light and the heavy if we can see it in the right perspective, as nothing is really gone it's just recycled into something else. Ideas fit this theory as well as each bit of originality must come from another thought that came before it, or a deconstruction of that thought.
I feel any innovation and originality in my sculpture, whether large or small, are humbled by this concept as the sculpture chooses its own form. As the great William Shakespeare wrote in A Midsummer Night's Dream, "Love looks not with the eyes but with the mind."
alysmyers.com
Photo: Kathy Chapman













About Carol's process: "I have been making glass beads and jewelry since 1991. I work primarily in what is called 'soft glass'. The glass comes in long canes that I work by heating up in the torch. When the glass is molten I will wrap it around a stainless steel mandrel that has been coated with release. I will shape the glass into the final form and decorate.
When the bead is finished I will put it into a kiln to anneal the glass. This process cools down the glass slowly. This removes the internal stress inside the glass. When the glass is cool, I will remove and clean the bead. The mandrel space creates the hole for the bead. Depending upon the complexity of the bead it can take anywhere from a minute to 2 hours per bead. Each bead is unique. No two beads will ever be exactly alike."
carolbugarin.com
Photo: Jonathan Stark



































Anh Vu Sawyer was born in Saigon, Vietnam. She is a speaker, writer, and artist. Her memoir, Song of Saigon, was published by Warner Books in February, 2003. Anh has worked with refugees and immigrants, at-risk teens, offered a home-away-from home to international students and continues to host International Fellowship gatherings in her home. She has spoken to many organizations and been interviewed on many national radio and television stations including NPR, KFAX, WOR, and Prime Time America.
In addition to her other achievements, Anh, in 1999, assisted a public health project for more than 2000 children in a commune outside of Hanoi, through her husband's organization that provides medical and educational aid to Vietnam. The project was hailed by the Vietnamese Ministry of Health as a model for the nation. But one of her favorite projects was the first Creative Writing Workshop conducted at a university in Hanoi with her writer friends in April 2004. It was here that she became more keenly aware of the precious gift of freedom.
anhvusawyer.com
Photo: Kathy Chapman